Main Content Starts Here, tab to start navigating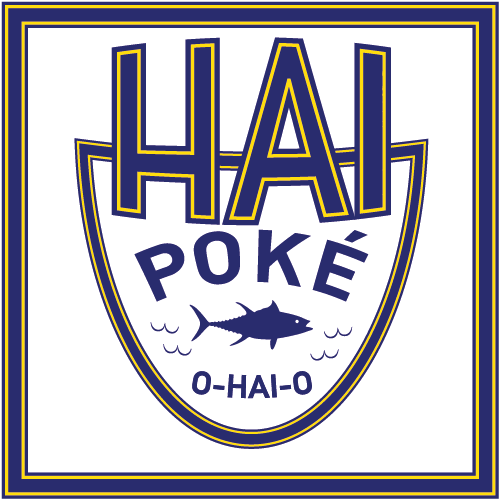 Island Inspired Street Food
The Original O-HAI-O Poké Bowl
Our vision for Hai Poké is to serve authentic island inspired street foods. We love creating experiences for people that turn an ordinary meal into a memory. Supporting us is supporting Columbus, adding value, and creating change in all our lives.
Come visit us at either of our locations or order delivery now - we can't wait to see you!
signature bowls
All bowls served with crispy wontons and a lime
the traditional
Choose one: Tuna, Salmon, Shrimp, Pork, Tofu or Veggie
Served over sticky white rice with avocado, spicy bean sprouts, jalapeño, onion, and pickled cucumber. Topped with spicy mayo.
$12
the ahi
Ahi yellowfin tuna served over half white rice, half greens with kimchi, pineapple salsa, and pickled ginger. Topped with fried shallot and sweet soy.
$12
the porké
Braised Filipino pork shoulder served over sticky white rice with slaw, jalapeño and avocado. Topped with fried shallot and spicy mayo.
$12
the veg
Lots of avocado, half white rice, half greens with edamame, wakame, pickled cucumber, spicy bean sprouts, onion, and jalapeño. Topped with vegan spicy mayo.
$12
the slammin salmon
Atlantic salmon served over half brown rice, half greens with wakame, pickled ginger, onion, spicy bean sprouts, and pickled cucumber. Topped with fried shallot and wasabi mayo.
$12
poké nachos
Our famous wontons topped with avocado, pineapple salsa, pickled onion, jalapeño, topped with Baja sauce.
Add protein for $5
$8
sidekicks + shareables
pork steam buns
Braised Filipino pork shoulder topped with coleslaw, wasabi mayo, fried shallot, and jalapeño.
one for $5
poké handroll
Choice of Tuna or Salmon.
$5.50
dumplings (vegan)
five for $5
protein
Extra protein + $5
Our juices contain 2-5 pounds of fruits and vegetables each and are made fresh daily using our custom cold-press juicer - the closest thing to eating raw fruits and vegetables!
All Day Green
kale × spinach × romaine × celery × cucumber × parsley × lemon × ginger
Health in a bottle! There is nothing more nutrient dense than green leafy vegetables. This juice is packed with chlorophyll – the life-blood of vegetables that builds red blood cells, fights infections and inflammation, and aids in digestion.
Charcoal Lemonade
lemon × honey × activated charcoal × filtered water
A healthy twist on a classic drink. We make our Lemonade with fresh lemon and agave and then add some activated charcoal which is a great filter that aids in the removal of toxins from the body. Not only does this make it even better for you but it makes it look very cool!
C.O.G.A.
carrot × orange × ginger × apple
This fruit and vegetable combo is the perfect anytime juice, providing the necessary energy to work through the day. It is full of beta-carotenes, multivitamins and antioxidants that will clean your digestive system and help the body fight off cancer and other disease. A healthy alternative to your morning coffee!
Drop a Beet
beet × carrot × lemon × apple × ginger
Beet is the star of this juice. Known as a detox superfood, beets help to strengthen the gall bladder and liver, serve as a purifier for the blood and prevent various forms of cancer. Beets are also a great source of instant energy. Sweet and nutritional co-stars – carrot, apple, orange and ginger – fortify this cleansing wonder juice and make it taste simply amazing!
Green Simplicity
apple × kale × lemon
Simplicity is beauty! This juice is a simple combination of some of our favorite ingredients. Kale leads the charge with its high chlorophyll content followed by apple with its burst of phytonutrients. Lemon, the antioxidant powerhouse, finishes off this beautiful green concoction.
Johnny Apple Cleanse
apple × lemon × cayenne × ginger
A perfect wake up call to your body and taste buds. The ginger will aid with digestion while the lemon delivers tart flavor and detoxification. The sweetness of apple brings it all together to make a delicious and healthy combo!
Sweet Pina Green
pear × pineapple × kale × romaine × spinach × mint
Greens meet refreshment. This juice does wonders for digestion. Pineapple contains the anti-inflammatory enzyme bromelain which helps break down proteins and pear is a hypoallergenic food known for its low acid content. The always refreshing mint has a super high antioxidant capacity and the classic green trio of kale, spinach and romaine have their countless benefits. Enjoy!
Victoria's C-Cret
grapefruit × orange × lemon
Our citrus juice is made from the freshest grapefruits, oranges, and lemons. It is the perfect juice to prevent an oncoming cold or fight off a current one. As an added bonus, our citrus juice will jumpstart your metabolism and burn fat – perfect as your morning go-to.
Delivery
Get your Hai Poké order delivered right to your front door.
Order Now
Catering
Let us provide the poké for your party!
Learn More
Say Hello
Reach us by phone at (614) 817-1406 (Short North) and (614) 670-5809 (Downtown) or fill out the form below and we'll get back to you ASAP!